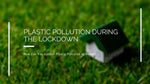 When was the last time you thought about the environment and plastic pollution in particular?
The whole world is going through an unprecedented crisis as it has never seen before. The outbreak of the coronavirus changed life as we know it, and it is threatening to stay longer than most people expected.
It has caused entire countries and economies to go on a mandatory lockdown and is indirectly affecting homes, families, economies, and businesses. In these days, everyone's goal is to make sure they and their families see themselves through these trying times. We at Eco Bravo are no different as we also want people to stay safe and healthy while hoping the pandemic will end soon.
Hello readers, you are once again welcome to this edition of our blog post. As always, we try to give you health and eco-friendly tips you need to make yourselves and the environment healthy.
In a bid to stop the spread of the deadly coronavirus, most governments around the world are insisting on the mandatory use of face masks, hand sanitizers, food containers, and gloves, most of which are plastic. Some of these strict measures are very important for the time being, but it may prove to be detrimental in the long run. Some people will ask why.
How the worldwide lockdown affects plastic pollution?
The answer to that question is our beaches, oceans, streets, and gutters have now been hit with a very large amount of these plastics. Most of this plastic waste is necessary because we need to dispose of them, but they are waste nonetheless, and when they end up in these water bodies and our streets, and forests, they threaten the very existence of our wildlife and aquatic life.
Imagine going to a beach to have a nice time with your family, and when you get there, aquatic animals show up on the shores dead because of the population of the marine bodies. Or visiting the forest to observe nature and then you notice their numbers have been depleted because their natural habitats are being polluted. That would not go down well with any individual, and it definitely would hurt a green environmentalist.
The sudden rise in the daily use of most of these plastics has led to an equal amount of disposable plastic waste, and it is making things worse. It was one of the biggest plastic pollution problems we have even before the pandemic. You can imagine the size of its problem now.
Social distancing has led to people turning to online products that come with a lot of packaging in plastic products, and the number of plastic face masks that are being disposed of has skyrocketed since then.
Recent researches have shown that almost 75% of plastic waste will constitute waste clogging in our ocean bodies and landfills, and they may have underestimated a little.
So, how can you address plastic pollution in your own way?
Try sorting your plastic waste carefully and know how to dispose of each one properly.

Some face masks and gloves are not always recyclable, so they should be disposed of properly.

If possible, reduce the use of some of these plastics. For example, instead of plastic face masks, opt for washable cloth masks to reduce plastic waste. Also, try keeping your hands clean always. That way, there will be a reduced need for plastic hand gloves. Even the concerned health bodies can attest to the fact that keeping your hands always washed offers more protection than plastic hand gloves.

Try using your grocery shopping bags. This can help decrease plastic pollution because you can always wash them after use and re-use them at a later time.
Plastic pollution among countries and businesses
Governments and businesses can also help by identifying non-fossil fuel substitutes for plastic. There are other biodegradable, less toxic, and easily recyclable materials that can be used in place of these plastics.
Examples are ceramics, natural fibres, glass, paper, rice husk, natural rubber, cardboard, and even animal proteins.
It would also serve the countries, governments, and businesses in the sense that these substitutes are making the planet more eco-friendly and are also creating more jobs, helping the economic sectors of these countries.
We know that plastics are not the only causes of the world population and we believe you already know it. So what are those relevant things that you may not consider as contributors to plastic opllution?
Among the causes for plastic pollution are the makeup pads and wet tissues ladies use for themselves and babies. These materials are not reusable, and so have to be disposed of after each use. Plastic toothbrushes and drinking water bottles are part of our everyday items. These particular items may last longer, but in the end, they have to be disposed of. However, these items are not disposed of properly and constitute the pollution we have been talking about. 
So, what do we suggest as a possible solution to these problems?
At Eco Bravo, because of our drive to always deal with eco-friendly products, we have some of the eco-friendly items that serve the same purpose as the items mentioned above in our online stores that are sold at very affordable prices. The only difference is they do not constitute environmental problems. Some of these items include reusable makeup pads, bamboo cleaning cloths, and ceramic containers, amongst other things. So, why not check out our online stores today and get these eco-friendly materials and start living green?
Nobody knows how long the pandemic will last, but we can always take positives from the situation. The forced lockdown has given the world a break to think about what we can do to set things right. We at Eco Bravo hope you are protecting yourself and your families and are staying safe.
We do hope you learned a thing or two from this, and if you did, please like and share this post, subscribe to our newsletter, and drop your views and comments because we will love to hear from you.