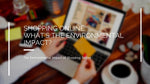 There is always the advantage of convenience when it comes to shopping online. It has even become a go-to therapy for most people, during and post lockdown. But between carbon emissions, plastic packaging, and overflowing landfills, is there a price to pay for this new way of shopping?
If you truly believe that shopping online is better and more ecofriendly than purchasing goods in a store, you might want to think again. I may sound a little counterintuitive, but it may be more eco-friendly to walk or drive to a store than make purchases online from companies that do not have physical stores, according to recent studies. Some others still believe that buying things online may be more eco-friendly. We will be discussing some of these in detail. Check out other blogs such as, "Consumerism: What's The Problem With Packaging?".
Hello readers, you are welcome to today's edition. At Ecobravo, it is our mission to create enough awareness on Eco friendliness to help us save what is left of the environment, and even human lives. Subscribe to our platform, and you will get unlimited access to all related content. We also have an expanding Facebook community, and we urge you to be part of it. You can do so by joining our page on Facebook. We also want to remind you to always smash the "Thumbs up" button to encourage us to make more educative and informative blogs. You can even share the blog with others to help them save the environment as well. We want the comment box below to be filled with your thoughts, views, comments, and questions.
The environmental impact of shopping online
Some people believe that shopping online is more ecofriendly than going to stores to buy items. One of the reasons is because when you drive to a shop or store to get items, your vehicles emit a lot of these greenhouse gases that may be harmful to the environment.
On the other hand, others believe that going to stores may be a lot more eco-friendly. This is because they believe that buying items online will require additional packaging, thereby increasing the number of plastic waste. They also argue that shopping online might make customers buy fewer items per transaction, and then there may be a case of multi-item orders which may result in multiple deliveries. These multi-deliveries are done with vehicles which emit the same greenhouse gases, and it may seem we are back to the first problem. There is also another reason; when you shop in stores and shops around you, the probability of returning goods bought is relatively low, reducing the need for waste. Some people buy items online, and because it is not what they expect, they dump it and place another order. The dumped items may then pile up as waste which may most likely be sent to the landfills. Also, as some people are still experiencing the detrimental effects of the pandemic, there may be another problem; the pandemic will not last forever. So when the pandemic is over, what happens? How do the re-opened stores handle the stocks of the last season? Do they dispose of them? If so, is it by burning or by sending them to the landfills? Either method of disposal is sure to pose a direct threat to the environment.
Two of the biggest online stores in the world are Amazon and Walmart. When Walmart was asked in an interview which channel would be most efficient in terms of how carbon is emitted, they replied that there was no single answer because the purchase patterns and lives of their customers were dynamic. However, they are putting plans in place to curb the excessive emission of greenhouse gases of their retail channels. Steps put in place include the provision of electric vehicles and chargers at a number of its store locations. They are also working hand in hand with other suppliers to try and battle greenhouse emissions.
On the other hand, Amazon has said that it is highly committed to environmental sustainability. They have drafted a plan to fight climatic change and also plans to make sure they go carbon neutral by 2040. They have also ordered a hundred thousand electric delivery vehicles that will be in full use before the end of 2021. With this move, they plan to save millions of metric tons of carbon annually.
We can agree that both of these methods of shopping may have their own effects on the environment. However, the key to solving this problem is not selecting which shopping method is better than the other since they both have their advantages and disadvantages. The solution would be to educate people to see the value of their consumption from another angle. Instead of always seeing ourselves as consumers, we can see ourselves as better citizens and creators. Think about whether you need to make that purchase in the first place!
A quick reminder; do not forget to like and share this blog, subscribe to our platform, join our Facebook community, and let us hear from you.