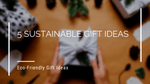 A gift is an absolute expression of love among humans. When we receive gifts, we have this feeling of affection, love and respect that leaves a smile on our faces. This is why sharing gifts is one of the ways to promote love in the wider world. However, most gifts that people give can end up adding to waste because they are one-use items or the recipient doesn't really need them. This keeps increasing the level of waste in landfill and the oceans and exposing the human environment to degradation and threat to its sustainability. Therefore, just as much as we show love to one another, it's imperative to extend the love to the planet that hosts us. In this blog, we will show you … sustainable gift ideas that sweeten the heart of the beneficiary without putting a threat on environmental sustenance.
Wheat straw bowls
One of the things we love as gifts are items with aesthetic appearance. This gorgeous bowl made from wheat straws makes a delightful gift. It's a perfect replacement for plastics that are detrimental to our ecosystem. On top of that, they don't attract odours or bacteria. Don't just take our word for it? You can count on the durability and sustainability of this biodegradable bowl, and the best part is that it can be recycled when it breaks. If you are thinking of an affordable kitchen option as a gift, you should consider a wheat straw bowl because it's eco-friendly and lasts longer. 
Reusable stainless steel coffee cup
A perfect gift for someone you cherish. We sure know that you want the person to be happy; that's why you give the gift. However, this cup will add to your intention by also preserving their health and saving the planet. The Stainless steel cup is free from BPA and other dangerous chemicals that come with anything plastic. It's more durable, corrosion resistant, recyclable, and considered by many health organizations as a high-quality item best fitting for storing and keeping foods. Want more? Stainless steel cups don't attract bacteria, deteriorate, and can be cleaned with ease. As against aluminium containers, steel-made items are free from the possibility of poisoning. Since health, joy, and sustainability are your goals, why not select this as a gift for your loved one for the next holiday? It'll be one of your best decisions.
Mesh produce bag
Giving out a bag like this as gifts is a big opportunity to drastically reduce plastic waste filling up our oceans. Mesh produce bags are sourced from excellent recyclable and reusable material. This means that you can wash and reuse them time again. And when they eventually go out of usage, they degrade, leaving the human environment in a safe state. With just a single mesh bag, you can save huge expense and waste generation from one-time-use of plastic bags. And guess what, mesh bags can carry more weight and preserve your food by allowing it to breathe and the fact that they don't contain plastic toxins. This is you saving your loved ones from unnecessary expenses while improving their health and that of the ecosystem. Mesh bags are an absolute gift for everyone that cares about the planet.
Telescopic metal straw
Eliminating plastic waste is the leading goal of zero waste living. You agree with this statement, or you won't be reading this blog in the first place. Plastic straws have no place after use other than to add to environmental waste and degrade marine life. This is why a metal straw is the best. It's portable, easy to clean, and doesn't rust or break like bamboo and glass straws. It is awesome to realize you can make a gift out of your small budget that will make others feel loved and keep the ecosystem safe. The same goes with stainless steel lunch boxes. Just like food is the place in a man's heart, you will have a good place in their heart for providing them with sustainable containers for their food.
Cotton heart knit basket
The heart is a sign of love, and so is the cotton heart knit basket, a good way to show that you adore the people in your life. With a strong base made of wood, these baskets can easily be used on the kitchen counter to collect remnants before they are transferred to the bin. These baskets are the perfect gift for your loved ones. Although it is very affordable, you can't know how much value a gift will be for those who receive them.
If you loved this piece, please give it a thumbs up and share it with everyone that cares about the sustainability of the ecosystem. Signup to our newsletter for more updates. This simple task will guarantee your access to more eco-friendly tips and strategies as we release them in the coming blogs. Do you have the right understanding of sustainability and green living? Describe it in a few sentences in the comment section. We love to see your answers. You can check out also this related post such as "The need for eco-friendly materials in our home".