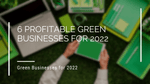 We live in an age where we are becoming increasingly aware of our environment. And this has impacted businesses to adhere to these environmental laws for sustainability. As a commitment to the environment, you want to consider the impact of a business startup on the environment and if the business will be profitable considering protecting the environment in all your actions. But you do not have to worry about that, for unique eco-friendly business ideas can fetch you good money.
Today, we are looking at profitable eco-friendly startups for business and environmental minded people. These ideas have been adequately researched and considered the best approaches for anyone who wants to make a profit this year by maintaining an eco-friendly enterprise.
Energy auditing business consultant
You can help businesses audit their carbon footprint and find ways to reduce it while maintaining a profit. Some companies are willing to pay consultants who will help them analyze their eco-friendly policies and help them navigate through the right path to sustain an eco-friendly business.
With your knowledge of eco-friendly approaches, you can help these businesses reduce their carbon footprint operations while getting paid.
Starting up an auditing business may not be capital intensive, depending on the company's scale. You can use your home as an office and use the internet to reach out to prospective customers.
Gardening and garden consultation
Starting your garden business is a way to provide food for your family and sell for profit. With your garden, you can produce organic food for people around your vicinity. As a result, people do not have to go long distances for food products they can get from you, thus reducing their carbon footprint.
You can deliver to homes, so they do not have to go out to get their grocery, thus saving them time and money. Starting a home garden will require reasonable capital, and you can save money spent on groceries while also making money selling to people.
Cleaning business (using an eco-friendly approach)
Just like Eco Bravo, you can start your eco-friendly cleaning business. The cleaning business is profitable, and you can earn a considerable profit. From an eco-friendly point of view, in creating a cleaning business, you will need to know about the best cleaning material to clean homes and offices while dishing out satisfactory work.
Many of us are used to conventional cleaning materials that contain toxic chemicals that affect the environment. You need to be knowledgeable about eco-friendly products and ensure that you clean for your clients, leaving a clean and safe environment for your cleaning business.  
A cleaning business is profitable as homeowners and companies are ready to pay for the thorough cleaning of their space. And it is easy to start up a cleaning business, as all you require are your cleaning tools and awareness to start.
Opening an eco-restaurant
You can set up eco-friendly restaurants by sourcing local ingredients for your food. The restaurant setup can be made up of furniture and stuff purchased from the used products store to set up the restaurants. Sourcing for local products is affordable and does not require long-distance transportation, which will help to reduce carbon footprint.
Sourcing for food products locally will also be cost-efficient, thus increasing profit. In addition, you can use local gardens to get fresh food products and ensure that other eco-friendly products run eco-friendly restaurants.
Other measures such as using towels rather than papers that can be reused, recycling waste products, reducing power usage in restaurants, and much more should be applied to reduce carbon footprint.
Renewable power consultant
Another profitable eco-friendly business is to sell renewable energy equipment or consult on the use of renewable energy. Companies and individuals are looking for affordable alternative energy. We can source compatible and affordable alternative sources such as solar panels and batteries thanks to advanced technology.
However, many people are not conversant with these new technologies and use them. With your knowledge of these alternative sources, you can help companies and people transit to the use of alternative sources of power. Make money by helping to reduce the carbon footprints that companies and individuals pass to the atmosphere.
Eco-friendly blog
The internet has provided us with the opportunity to reach out to millions of people through blogging, social media platforms and other channels. With your knowledge on eco-friendly related issues, you can grow your audience and monetize them by opening a blog or other online media such as YouTube and social media platforms.
Setting up a blog is easy and free, and with regular updates, you can amass a huge following with engaging topics. Follow up with monetizing the blogs by selling eBooks, charging a fee for booking consultation, placing adverts, selling products and promoting affiliate links. You can promote your brand as an eco-friendly enthusiast and become known globally with blogging.
You can also use social media platforms to promote your blog and brand. As you create awareness, you can be more profitable with your eco-friendly blog.
Eco-friendly businesses are becoming profitable, and most of them are easy and cost-effective to start. From the list of enterprises discussed above, you can find one that suits your niche that suits your ability and runs an effective and profitable business.
If you find this article interesting and impactful, you can drop your comment below for further discussion. Also, you can check out our previous posts by following us across Eco Bravo social media platforms and get real-time updates.