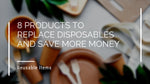 Waste is one of the environment's greatest headaches. According to the global waste index, the planet faces annual waste of over two billion tons. Even though population increase has a role to play in that, uncontrolled consumption and poor waste management has led the human world to produce waste of more than 15% of its population annually.
Now that we are transitioning to an eco-friendly lifestyle, reducing waste should be our top priority. One of the best ways to do that is to replace disposables with reusable items. With this simple approach, you will be saving the planet and cutting down on your expenses on repurchasing one-time-use products. In today's post, we want to cover eight reusable products that you can get today to replace one-time-use alternatives.
Here Are The Reusable Items That Save Money and Reduce Waste:
Reusable sanitary pads
A study showed that an average woman of reproductive age uses no less than 11,400 pads in her life. If we multiply this by the population of women, the world will be full of waste in the next few decades. The way out is to use sanitary pads that you can reuse. That will save the planet from the pollution that comes from plastic disposable pads from manufacture to consumption. What's more? There are still extra benefits like the prevention of skin rashes and infections due to their higher breathability compared to disposable options. Plus, you will also save some cash for yourself over the long run.
Reusable foods storage wraps
With the need to store food, we cannot do away with food wraps. But to reduce waste and plastics, it's best to opt for reusable storage bags. The eco-friendly deal is that you can compost them after their usable life. Beeswax wrap, for example, can last up to a year and keep food fresher because it's breathable and waterproof. Similarly, mesh-produce bags come in handy and easy to carry produce when you visit the farm or grocery stores, and you can wash and use them again. Investing in these reusable and recyclable bags save more money in your pocket than when you spend on plastic bags.
As you enjoy this edition, kindly hit the like button and share it with others so they can know more about how they can participate in creating a greener and more sustainable planet that can guarantee human existence. If this is your first time on our channel, we share tips and tricks that make the journey to zero-waste living easy, fun, and adventurous for everyone. So, hit the subscribe button to ensure you don't miss any of our posts.
Laundry balls
Laundry balls are not completely organic, but they are sustainable as they're made of reusable plastics. If you want to avoid the severeness of detergent and other harmful chemicals on your clothes, laundry balls will serve you right. Getting clean and shining clothes is also not a problem. Laundry balls are effective for all kinds of fabrics, and we leave your clothes sparkling clean.
Not only is plastic littering our lands and oceans, but we are also at risk of taking microplastics along with water. Bottled water is another name for spending heavily on what deteriorates your health. What if you could spend less to keep your health and the planet safe? The answer hides in a reusable glass water bottle. The main part here is that you can use it many times, wash it easily and enjoy contamination-free hydration. It's the safest replacement for plastic bottles.
If you want to reduce your carbon footprint and bring down paper waste from your kitchen, reusable kitchen rolls are the answer. Instead of paper towels, these are organic cotton that is biodegradable and reusable. You can use, wash and reuse them up to 100 times, cutting down on your expenses while keeping the planet greener.
Reusable telescopic straw
Plastic straws are used once and add up to the waste the world has to deal with. You can play your own part in stopping the spiral when you start using telescopic straw instead. With a single purchase, you can use, clean, and reuse them. The straw is made of food-grade stainless steel, which means you can wash it in a dishwasher. It does not scratch or get rusty. It's well-designed to save you from BPA and doesn't interfere with the pure state of your drinks. When going on holiday or traveling to a nearby city, let it be your companion.
Tote bag
Visiting the supermarket, going to the gym, taking lunch to work, and recreating at the beach all demand a container for the items you want to take with you. Plastic bags are for short-time use which is not ideal for the environment. A reusable tote bag allows you to have easy access to items as you need them and doesn't beat down your fashion standard. You can get different styles and colours with inscribed words as you wish. The next time you want to share gifts, tote bags are a perfect idea that keeps the ecosystem clean and puts your loved ones on cloud nine.
If you find this post valuable, please give it a thumbs up and share it with another sustainability enthusiast. It will go a long way in changing people's perceptions and attitudes to green living. Kindly check out also this related posts such as "Six Everyday Home Swaps To Go Plastic Free".