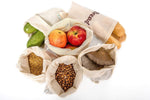 How possible is it to store produce or even carry your goods from the farmers market without using plastic bags? Well, it is possible. In fact, it is far easier than you think.   
The world is going greener and in some countries, plastic bags have been banned completely. It's common knowledge already that plastics pose a great threat to the environment. Plastics are simply not eco-friendly. Not only do plastics destroy wild fauna and flora, but they also take a huge percentage of world oil consumption, cause various forms of pollution, and contain endocrine-disrupting chemicals such as BPA. 
For this reason, many people are turning away from single-use plastic bags and I bet you are too. In the US, plastic bags, especially the clear and extremely thin ones are used in packaging fruits and vegetables in grocery stores and supermarkets. But then, considering the fact that they are difficult to recycle and reuse, they contribute hugely to local litter. 
But there is good news for you!
There are alternatives to these single-use plastic produce bags. These alternatives are called reusable produce bags. Interestingly, they are more advantageous to you and the environment. With them, you can finally reduce your carbon footprint effectively and be proud of it. 
So let's find out all that you need to know about alternatives to single-use plastic bags, ideas on what the produce bags can be used for, things to consider when choosing from the alternatives, and discovering which are the best on the market. 
Top Reusable Produce Bags
The top reusable produce bags that serve as the best alternatives for single-use plastic produce bags include;
1. Recycled PET Plastics
PET plastics are one of the commonly used plastics as they are a popular choice in packaging water, soft drinks, and many more products that require the use of clear plastics. PET plastics are equally lightweight, strong, and one of the easiest to recycle. For these reasons, more packaging industries are recycling PET plastics and using them to produce reusable plastic mesh bags.
If you care about lowering your carbon footprint, then you can add the recycled PET plastic mesh bags as a better alternative for single-use bags. The recycled PET plastic produce bags can be used for just about anything including storing and shopping for fruit, salad leaves, vegetables, and even bread.
2. Upcycled Fabric Produce Bags
Still looking for better alternatives for single-use plastic bags? Why not try the upcycled fabric produce bags. These produce bags are made from unwanted fabrics such as old table clothes, curtains, bed sheets, and many others. 
If you have confidence in shopping online, you can shop for these upcycled fabric bags on Etsy. There are numerous designs, sizes, and colors for you to choose from. However, to reduce the carbon footprint that can be incurred from the transportation and excessive packaging, you should consider buying from a seller close to your home or have a go at making your own.
3. Re-zip PEVA Produce bags
Everyone loves the convenience that comes with using Re-zip or re-sealable produce bags. But what about the fact that you can only use them once? You begin to worry about your contribution to plastic pollution, I guess. Well, there is an alternative for you and that is the re-zip PEVA produce bags. These PEVA bags were designed as an alternative to using PVC plastic bags. They are a stronger and healthier alternative for storing produce. 
The Re-zip PEVA produce bags are clear bags and can be used to hold almost anything. The fact that they are made of FDA-grade PEVA material guarantees you of its durability. They are also  leak-proof and airtight. When choosing a re-zip PEVA produce bags, you should consider picking the stand-up bags.
4. Cotton Produce Bags
Popular online stores that pride themselves on selling eco-friendly products such as online plastic-free and zero waste stores have taken to marketing cotton produce bags aggressively. I had to say this just to let you know how popular cotton produce bags are becoming more and more popular as an alternative to single-use plastic produce bags. 
Cotton produce bags are a good option as unlike the other alternatives I mentioned above, they offer some of the best benefits. They can be used to store almost anything, they are also long-lasting, and will compost easily when finally thrown out. On zero waste stores, there are various sizes and even shapes for you to choose from.
5. Hemp Produce Bags
Produce bags made from the hemp plant is another alternative to single-use plastic bags. They are durable and strong and have a long-life span for both shopping and storing  However, hemp produce bags are not widely available like the cotton produce bags and the others. This, however, shouldn't stop you though from getting yours online or offline. 
6. Bulk Reusable Produce Bags
I have mentioned several reusable bags above that are a better alternative to single-use plastics but you still may be left with a question, "Can I use these bags for bulk shopping?" Well, the answer is no. However, an alternative has been devised for this problem and that is the Bulk Reusable produce bags. This reusable produce bag is a fairly new bag idea and has been designed exclusively for bulk shopping and storage. They are also the ideal produce bag for easy transport and can be labeled as well. 
7. Jute Produce Bags
If you would rather not use or are unable to get hold of a cotton or hemp produce bag, the Jute produce bag is an alternative for you. They are eco-friendly, equally durable, and lightweight as well. 
More importantly, before going on to purchase any of the listed reusable produce bag you should check what you may have in your home. Do you have laundry bags that can be converted into mesh bags? Do you have pillowcases which are no longer in use? Do you have abandoned glass jars? Or you have some plastics bags lying around somewhere in your home? Ask yourself these questions and make do with what you have.
Things reusable produce bags are good for
Reusable produce bags are versatile bags that can be used for just about anything. Some of the things the bags can be used for include;
Grains. 

Nuts

Fruit

Vegetables

Herbs

Beans

Teas

Bread

Loose salad leaves
You can use reusable produce bags for shopping and storing all the above produce at home.
Other creative ideas for using reusable produce bags include;
Toys

Lunch

Travel Organization

China wares

Make-up bag
Be it for storing toys, packing lunch, organizing your travel bag, carrying your fine China wares or as a make-up bag, the reusable produce bag are an ideal bag for all. 
Best Reusable Produce Bag?
Of all the listed produce bags above, you may be wondering which one of them is the best. Well, the cotton produce bag is the best. Why? At each stage of its production and use, cotton produce bags are the most eco-friendly. Remember, reusable produce bags are an alternative to single-use bags and they were designed to be eco-friendly. This is the reason cotton produce bags are rated as the best reusable produce bags. 
Benefits of Using Cotton Produce Bags
The benefits of using cotton produce bags are immense. They include;
Cotton produce bags can be machine washed. Unlike other reusable produce bags, cotton produce bags are easier to wash especially in the washing machine. 

They are widely available in the US and the UK. When purchasing cotton produce bags, you can be sure of getting it from a nearby seller which will reduce the carbon footprint of transportation and packaging. 

They are pleasant to touch as they are soft and smooth. 

Cotton produce bags are strong and highly durable. This ensures you can use them for a long time before throwing them out. 

They are versatile in use.

They are biodegradable as they are made purely of natural fibre. 

They are made of a renewable resource, hence, your carbon footprint is minimal.

They do not pose any health or safety threat. 

They can be repaired easily.
Tips for Using Cotton Produce Bags
Limit the number of times you wash them in the machine so they don't shrink quickly. 

Wash in cold water to ensure their durability.

Ensure you air dry the cotton produce bags. 

Avoid leaving your vegetables and fruit inside them for long.

Use cotton produce bags to shop on days you are less busy. Due to the non-transparency of the bag, checking out may take a while at the supermarket.
 Tags: shopping bags, reusable produce bags, eco-friendly lifestyle