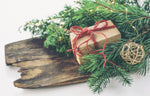 Choosing the perfect gifts that express your love and appreciation for your family and friends can be quite a challenge. As tough as that may seem, however, it's got nothing on choosing an Eco-friendly Christmas gift which also shows your love for the environment.
But don't worry - we'll make it a whole lot easier this Christmas. Whether you are an ardent eco-warrior or are simply looking for the perfect gift for one, you'll definitely find something useful on our list. Even better, these eco-friendly Christmas gift ideas do not cost a fortune. Yes, you read that right - we've got a whole list of sustainable, affordable and eco-friendly items for you! Shall we begin?
Cork Cup
Double-insulated, durable, shatterproof and 100% BPA-free, this cup makes for an excellent eco-friendly Christmas gift. Help your friends and loved ones make the switch to sustainability!
Encourage your better half to steer clear of toxins or simply add yet another eco-friendly item to your kitchen arsenal with Eco Bravo's Reusable Cork Cup. Comes equipped with a unique no-spill lid, making it great for travelling and drinking smoothies on the go. 
Beeswax food wraps
When it comes to the preservation of fresh produce and baked goods, wrappings are a must. But that doesn't necessarily mean that you have to forego your eco-friendly ways.
Eco Bravo's beeswax food wraps present you with an excellent, completely biodegradable alternative to the carbon footprint-bloating standard food wraps. Keep your sandwiches fresh and your baked goods soft and sweet, expand your kitchen arsenal and enjoy a safer and greener Christmas, without causing needless damage to the environment.
Reusable Food Wraps
Reusable Mesh Produce Bags
Any list of cool Christmas gift ideas would be incomplete without a couple of these life-saving reusable mesh produce bags. Grocery shopping already costs so much. Why accumulate unnecessary expenses by buying grocery bags every time you go shopping?
They don't even last all that long. Well, that's because you are using disposable plastics! Why not turn to a more sustainable and cheaper option instead? Give it a try, and you'll be amazed!
Natural Coconut Bowls
Functional and stylish, Eco Bravo's All-Natural Coconut Bowls are an excellent addition to any modern-day green kitchen. Hand-crafted by durable natural coconut, they present you and your family with the perfect replacement for dangerous plastics or easy-to-break glass. Eco Bravo's Natural Coconut Bowls come in sets of two and are durable enough to be used by people of all ages.
Bamboo Dinner Set for Kids
Make dinnertime fun, safe and eco-friendly with Eco Bravo's Bamboo Dinner set for Kids. Make out of durable, 100% BPA-free and toxin-free, food-grade materials, this set is the perfect addition to any family's kitchen arsenal.
Throw away the flimsy plastics, put grandma's porcelain back in the attic and embrace a greener and healthier future with Eco Bravo.
Bamboo Cutlery with Case
Whether you're just starting your eco-friendly journey, or you're an experienced green living veteran, you simply can't go wrong with a bamboo cutlery set. Lightweight, easy to clean, reusable, durable and 100% toxin and plastic-free, out Reusable Bamboo Cutlery Set, is an excellent addition to every modern kitchen.
And, to top it all off, it also comes with its own compact case, making it great for travelling as well.
Folding Cutlery
Are you a fan of travelling? Do you often choose the park or hiking trail instead of the couch? Do you often find yourself longing for distant, unknown places? Then our Folding Cutlery is just the thing that for you.
Durable and compact, it will fit comfortably in your briefcase or backpack, add no excess weight, and help you remain green and eco-friendly on the go. Great for picnics, hikes, backyard barbecues, vacations, business trips and romantic evenings at the beach.
Portable Cutlery Set
Stainless Cup
A modern solution to your eco-friendly needs, Eco Bravo's Stainless Steel cup presents you with a sustainable alternative to your standard disposable and easy-to-shatter cups.
Backed up by its double-wall insulation and ergonomic design, it will comfortably fit in your backpack, gym bag, briefcase, car cup holder or purse, all the while remaining safe and entirely eco-friendly. Grab yours today and enjoy your smoothies in style, without any worries about bloating up your carbon footprint.
Reusable Telescopic Drinking Straw with Case
Add a touch of style to your drinking experience, take a firm stance against plastic pollution and protect yourself from toxins in one go with Eco Bravo's Telescopic Drinking Straws.
Durable, reliable, eco-friendly and very easy to carry, this product is an excellent addition to your cocktail parties, friendly get-togethers and after-gym-smoothies and relaxing weekends at home.
Reusable Stainless Steel Drinking Straws
Stainless Steel Lunchbox
Looking for safe and eco-friendly ways to enjoy your delicious snacks while away from home? Trying to find a reliable alternative to traditional disposable lunchboxes? Eco Bravo's Stainless Steel Lunchbox has you covered. Portable, durable, lightweight and stylish, this lunchbox presents you with the ultimate solution to any and all food transportation woes.
Surprise your friends, relatives and loved ones with an eco-friendly Christmas gift that will keep them safe from BPA, toxins and plastics, all the while ensuring that their food remains at just the right temperature.
Reusable Coffee Cup
Each time you take a sip from the cup, it's like a full replay of the day and a warm smile. It is beautiful. It is magical.
Why not leave a lasting memory in your loved ones' hearts with one of these Reusable Coffee Cups? Perfect for both hot and cold drinks, they completely safe and 100% BPA free. What's there not to like?
Bamboo Toothbrush
If you've been looking for a durable and reliable replacement for your conventional disposable toothbrushes, then this one's for you. Lightweight, compact and 100% eco-friendly, Eco Bravo's Bamboo Toothbrushes are the ultimate addition to your dental hygiene arsenal.
As an added bonus, bamboo's inherent durability turns this product into the perfect travelling companion, allowing you to keep your carbon footprint in check even while you're away from home.
Makeup Removal Pads
This Christmas, surprise your better half an eco-friendly Christmas gift, that will keep them healthy, safe and toxin-free. Highly renowned for its protective and skin-rejuvenating qualities, bamboo is one of the best possible materials for skincare products.
Furthermore, these pads are suitable for all ages and are guaranteed to cause no issues even for users with sensitive skin.
Reusable Bamboo Fibre Kitchen Cleaning Cloths
Which home doesn't come with a kitchen? None that I know of. Therefore, the kitchen is typically an excellent place to start thinking, if you are looking for a gift anyone would both enjoy and have a practical use for.
And guess what? You do not have to buy an entire refrigerator or a stove. Even items as small as a couple of kitchen cleaning cloths can make a big difference in the lives of your loved ones!
Water Soluble Plastic Free Cleaning Sachets
Which home doesn't come with a kitchen? None that I know of. Therefore, the kitchen is typically an excellent place to start thinking, if you are looking for an eco-friendly Christmas gift anyone would both enjoy and have a practical use for.
And guess what? You do not have to buy an entire refrigerator or a stove. Even items as small as a couple of kitchen cleaning cloths can make a big difference in the lives of your loved ones!
All-in-One Eco-Friendly Hamper
Let's face it. Picking out the perfect eco-friendly Christmas gift can be really stressful. How do you pick out a gift that your recipient would love and use when common sense says they need just about everything. From beauty products to kitchenware and everything in-between.
Of course, you can't just walk up to them and ask what they need (or well, you could, but where's the fun in that?). It's much better to demonstrate your love and attention to detail by knowing what they need without asking. But how does one get it right - and the first time at that? You can just buy them everything! 
Okay, that must sound a bit over the top. But don't worry - it's nowhere near as expensive as it sounds! 
By 'buy them everything,' I mean you should consider getting them one of these All-in-One Eco-friendly Bundles. That's right. For as low as £132.50, you can get them a range of excellent gifts – from a Stainless Steel Lunchbox to a set of Makeup Removal Pads, a Telescopic Drinking Straw, and many more amazing presents. 
All-in-One Eco-Friendly Hamper
Green Kitchen Hamper
Of course, the kitchen is a great place to start. However, the kitchen is also a big place, capable of fitting tons of super cool eco-friendly Christmas gift ideas. Is there a way to get them everything? Well, I am glad you asked.
This Green Kitchen Bundle is a surprise pack that comes with the perfect mix of items, relevant for every modern kitchen. You will be surprised at what you find. Check it out!
Conclusion 
And there you go – our frugal list of the top 9 eco-friendly Christmas gift ideas anyone would love. Rest assured your Christmas cannot go south with these green ideas. Stay green during the Holidays, spreading joy to your loved ones and the environment alike!