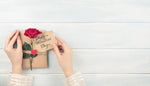 Hello, welcome back to our blog. Today we will take an early look into Valentine's Day and what Eco-friendly gifts we can share. Have you gotten your gifts ready for that special day? There are so many people in our lives that deserve a gift from us. So, we will assist you by picking out 12 best ideas for an eco-friendly Valentine's Day gift.
Valentine's is a season of love, a period of sharing and caring where we express our deepest heart to those around us. We gift our love to those we care about and hope to receive love in return. On Valentine's Day, we are not called only to share this love with those we love but to share our love with the world around us at large.
All of us are called to protect the earth we have and treat it with the love, care and respect it deserves. We are called to work to preserve this planet we have for the generation unknown. What better way could you do that this valentine for ourselves, our friends and our planet, other than to gift all the beauty of ecologically friendly products?
Here is a list of amazing eco-friendly Valentine's Day gifts for your loved ones
Eating is a part of human survival and having an environmentally friendly way is a bonus point for you. This plastic-free and portable cutlery can be taken with you anywhere you go. Since it comes travel-ready, you can be sure that you will fight against plastic pollution wherever you go. 
Built with equally durable material to the gold, this product is a different variation. For those who would love a different colour to their cutlery pack, getting this is a sure bet.
This product is a perfect eco-friendly Valentine's Day gift. Pack and store foods for your daily journey or for longer. It comes fully prepared to protect your food, yourself as well as the environment and it can easily be reused. With an extra benefit of keeping your food edible for longer, this product is fit for all food and storage types. 
Style is important to us all eco-friendly or otherwise, and this handcrafted 100% coconut bowl serves you the best of both worlds. It comes packed with two bowls and spoons which are easy to maintain and are very easy to carry with you on long trips. You also get a free eco-friendly bag for storing and carrying this gift-worthy item.
Cleaning just got environmentally friendlier with this product. You don't have to worry about anything with this, all you need to do is to drop this dissolvable material into a bucket or a bottle of water and wait till it dissolves into it before cleaning. It can be used anywhere around the house from floors to walls or kitchen and more. It sells at an affordable price and is a perfect eco-friendly Valentine's Day gift for a homemaker.
We are charged to care for our planet and this eco-friendly bag is the best way to ensure it. Suitable for storing everything and anything from ingredients to other grocery items and more. It is reusable, easy to wash, durable and can be recycled. Since it is made with organic cotton, it is breathable which is good for storing food produce. 
Perfect for those who just love home-cooked meals. This lunch box is a better alternative to plastic; it is reusable, durable and portable. It comes with 100% materials to the lunch box and its cutlery. They are also easy to wash and they grant a special benefit of being smell-free as well as being lightweight, so you can carry it with you without worry. 
Rather than using the disposable plastic straws that harm the earth, this is the next best option that is easy to maintain, long-lasting and reusable. Not mentioning its portability.
Caring for the environment begins from young, set your kids on the right path with this durable, spill-free, safe dinnerware. Your kids get a sage bamboo plate, cup, spoon, fork, bowl and more all tailored to give them the best experience there is. 
Getting this for the women in your life is a truly applaud-able fit. This product not only helps the environment but also the users, it is easy to wash and maintain and can last more than 2 years if maintained correctly. It is also comfortable and portable, making it easy to take around. With quality and healthy materials, you are not only happy but also healthy. 
This durable, insulated, shatterproof coffee cup is the best solution for all earth-loving coffee drinkers. It is easy to clean and maintain, spill-free and toxic-free. There are a few rules to using it like not using it in a microwave or don't fill with boiling water and more, but everything else is compensated for by its biodegradable and portable characteristics, which makes it a great option for an eco-friendly Valentine's Day gift.
Conclusion
Choosing an eco-friendly Valentine's Day gift is an admirable choice and sharing this choice with those around you is applaudable. Don't also forget to gift yourself one of these great items this season of love. Inform us if you liked our selection of gifts or if you feel there are other items that should be on our list. Don't forget to sign up if you're new or sign in if you're an existing viewer and leave your comments.