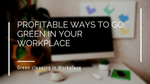 Business owners want to make a profit, but they also have to consider the impact of their operation on society. And recently, the environment has become a significant factor to consider in how businesses operate. But, it is only natural that you should consider the profitability of  green initiatives. And the result will determine if business owners will adopt the green initiatives.
It takes a lot for businesses to change their operating methods to a new approach that has not been tested. And that is one of the reasons most entrepreneurs are sceptical about the eco-friendly approach in their workplace. We can analyse that this scepticism is due to a lack of understanding of the green approach in running businesses and how it can be best for business management and protecting the environment.
Today, we at Eco Bravo will list out ways you can apply eco-friendly approaches that will be beneficial to your business.
Use alternative renewable energy sources
With advanced technology, renewable energy sources like solar and winds are now readily available for homes and offices. You can now install solar panels that can convert heat energy to electric use on your rooftops and alternate it with your other source of energy. With alternative renewable sources of electricity, the cost of running the workplace will reduce over time since the solar source of energy has a long life span. Because renewable energy is clean, you will also be helping the environment and saving the cost of electricity in your business. Many companies are now adopting renewable sources of energy that are peculiar to their location. And while wind and solar are often the best options available, you have to consider your environment in choosing which one will be efficient in your workplace. 
Reduce paper trail in the office
You can reduce paper use in the office by using the computer and internet. Papers are made from trees, and the number of trees being cut down affects the environment, increasing carbon, biodiversity and disrupting the ecosystem. Buying papers is another cost that adds to expenses in the office. And if you can reduce that, you will reduce the cost of running your business which means an increase in profits and help keep the environment safe.
The first implementation you should make is the transition to digitise your business. Transfer as much office communication, documentation and paperwork to the digital process. The approach of sending emails, using online messaging apps, and other applications that can make office work easier should be made available for office use. The digitisation process will save you money and reduce your workplace's carbon footprint, for it is fast, convenient, cost-efficient for you and will reduce the cost of buying papers and disposing of paper waste.
Buy certified eco-friendly products in the office
It would be best to consider the products you use in your office, especially the cleaning products. Always check for the chemical composition of products you use in the office and opt for those with no harmful chemicals. In addition, as a company that wants to fight global warming, you have to be intentional in supporting courses supporting green initiatives. For this purpose, you should patronise products that are certified eco-friendly. While this will help boost the fight against greenhouse gases, the office environment will also be free from toxic substances.
Educate employees about the green challenge
Your mission to go green and protect the environment should also be stated in the company's vision. You will increase the chances of impacting the environment by getting your employees involved in the process. Everyone should be involved in reducing carbon in the environment, and the company can organise awareness campaigns for the workers.
The education approach is a positive one supported by organisations to help promote understanding the event and its positive impact. Education and enlightenment about the effect of greenhouse gases are critical in the fight to protect the environment. And as an organisation, providing a platform to educate your employees will have a ripple effect on their friends and families, which is a considerable gain in the campaign for eco-friendly approaches.
With the enlightenment, you may enjoy a more cost-effective approach from your employees. For example, they may reduce their use of paper, turn off their computers when not in use, avoid unnecessary transportation, and save the company money on official movement. In the long run, their activities after understanding the effect of carbon will also reduce the cost of operation.
Reduce wastage of energy
Make it a priority to reduce energy wastage in the workplace. Track the cost of electricity per month, and then place measures to reduce energy wastage and compare the price before and after the steps taken. Set out some guidelines to reduce energy wastage, such as switching off lights before leaving the office, using energy-saving light bulbs in the workplace, and ensuring computers that are not in use are switched off. Everybody in the workplace should be responsible for this, and incentives can be used to encourage them to watch out for acts that waste energy.
In conclusion, the tips above will help you maintain an eco-friendly workplace and run a cost-efficient environment. Now, as a business owner, you will not be sceptical about applying eco-friendly measures as they are relatively cost-efficient for your operations.
Do you find this content on Eco Bravo helpful? Then drop your comment below; let us hear from you. You should also sign up to our newsletter and follow us across all our social media platforms. On these platforms, you will find updates and links to previous posts that will be useful to you. Finally, share the content with friends and families to help them apply these tips in their business.