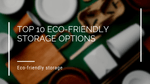 Have you ever considered the damage you do to the environment when you throw those plastic materials away when you no longer use them? The world and its ecosystem are already so choked up with tons of thrown away plastic items, which speaks of more doom to the ecosystem. This is because these plastic items do not decay; they stay for decades, thereby causing more ecological harm to humans and other habitats.
Hello and welcome to our blog. At Eco Bravo today, we will be looking at more ways to transition into eco-friendly living easily. Deciding to change and reduce your carbon footprint can take a lot of effort and time. And we recommend making major changes incrementally  over time. This is yet another major change we bring to you. We will highlight the top ten eco-friendly storage options you can work with.
Have you been thinking of another alternative to storing your food items? Then you need to use better materials with the best ecological features that are safe for humans and the environment.
Glass food storage containers
Glass containers have been around for some time, although many people do not know much about their benefits for storing food items or other things. They can be used to prevent food from damage. Also, they are good for keeping food items from pests. Not only that, they can be used to keep other home items. Food is prevented from contamination. They are also reusable.
Stainless steel materials are other kinds of food storage options that are reliable for preserving food or other items. It is used to store things, but it also helps to prevent food from other damage. It is anti-rust if kept from moisture. It keeps things fresh, especially food. Besides that, it is very portable and reusable.
The silicone reusable food bags
Although many people are not familiar with silicon food bags, they are one of the best for the preservation of food. It is even better because it is reusable. It can be zipped up to prevent pests or other harmful contaminants from contacting the items in it. It is safe for use, and the environment is free from any toxicity because it is made of BPA plastic. In addition to that, it is dishwasher safe and microwavable. Besides that, it can be kept in the fridge.
Dry food glass containers
These are other ideas for storing your food items such as groundnut, rice, snacks, and other food items. They come in various sizes and are best for preventing food items from damaging. This is because they are made with airtight lids that can be opened and closed. They are good for keeping food items fresh for a long time. It can be washed by hand. Also, they can be reused.
Mason jars
Are you worried about the leftover foods that might damage, or have you been throwing your leftovers away? Then the solution is here. Mason jars are great for storing leftover foods. Besides that, it can be used to store rice, flour, and other grains. It can be washed and reused many times.
Have you ever tried using cloth food storage bags before? If not, then you need to try using them. The reason is that they are one of the best in keeping and carrying sandwiches and other refreshments. Not only that, they're good for keeping onions, beans, and other food items. They are safe for use anywhere and don't possess toxic materials such as phthalates, lead, PVA, or BPA materials. In addition to that, they don't have any heavy metals that are harmful to health. It is also dishwasher safe and can keep food items for long and free from any damages of microorganisms or pests.
It is made from cotton fabrics. Not only that, it is infused with beeswax. It has a breathable seal, and this ensures the freshness of your food for a long time. It is reusable wraps that can last for 12 months. The cleaning process only involves cleaning the wax paper and use. It also prevents food items from being damaged.
Aluminium foil pouch bags
The aluminium foil pouch bags are one of the most amazing ways of preserving food for freshness. They are so perfect because they can be kept in the freezer. They can also be kept in the oven. However, do not put it inside a microwave. It is reusable, and cleaning can be done by wiping it clean and using it again. It can be easily destroyed if no longer needed for use.
The bento box
This is great for kids, especially because it has two to three compartments that pack hold different food items. It can also double as a lunch box. It can be put inside the freezer. Also, it can be used in the microwave. The bento box is good because it can be used in a dishwasher. The lids are airtight and prevent air from having contact with your stored food items. It is also amazing because it can be used to carry liquid as well.
Paper food wrap
In place of plastic wrap paper, paper food wrap is another best alternative. This is because it is eco-friendly and suitable for food storage. It can be used to wrap and store food items like pieces of meat, vegetables, and sandwiches. It is safe to use. However, it is best to use the unbleached types. It can be put in a microwave as well as a freezer. It helps to prevent spoilage in food and helps to retain its freshness.
Conclusion
These eco-friendly storage options are unique for preservation, and they are safe for the health of individuals and the environment against any form of toxicity. They also assist in preserving the freshness of food items. Rest assured of their features as they are good for the oven, microwave, freezer, and dishwasher. Hence, your food is safe for consumption after a long period.  Thanks for reading. If you want to see more of this, kindly comment and subscribe now to our blog. If you have inquiries or need advice, you can reach out to us, and we will get to you as soon as possible.