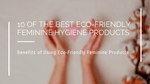 Most people don't care about the amount of waste they throw out. As environmental pollution becomes worse with each passing year, now is the time to think about how you can reduce your contribution to the trash and help save nature.
Plastic waste is one of the biggest contributors to environmental pollution.

Everybody has a hand in today's waste problem. Women, through no fault of their own, contribute significantly to plastic waste because of the feminine products they use such as sanitary towels and tampons.
Fortunately, there are other ways to live a green lifestyle by switching to eco-friendly feminine products.
Benefits of Using Eco-Friendly Feminine Products
A Wide Range of Products to Choose From
You'll find different types of eco-friendly feminine products in the market today. You can choose one that suits your needs and makes you feel comfortable.
Reusable and Easy to Clean
Most eco-friendly feminine products are reusable and that means you don't have to worry about running out of them when the need arises. It helps you save money since you don't have to purchase the same product regularly. Not only are these items easy to use but they're also easy to clean.
Saves You Money
Switching to eco-friendly products helps you save money too. Given that they're reusable, you no longer have to purchase monthly disposables. Although you need to invest in good quality eco-friendly feminine products at first, you'll get to cut back on the costs over time.
Safer for the Body
The use of sanitary products can cause skin irritations and rashes. Eco-friendly period panties and reusable cloth pads are made of soft and breathable cotton materials.
Increased Comfort
Women need to change their disposable sanitary pads every four hours especially during menstrual periods. So, you need to wear something that's comfortable. Eco-friendly feminine products such as period panties and reusable sanitary pads are easy and comfortable to use.
Environmentally Friendly
As its name suggests, eco-friendly products do not contribute to environmental problems. It allows women to reduce their contribution to the worsening waste problem by switching to reusable feminine products.
Gone are the days when you need to stock up on disposable pads for your monthly menstrual periods. Reusable sanitary pads are better alternatives because they not only cut back on your contribution to environmental pollution but also keep bacterial infections at bay.
Eco Bravo's reusable sanitary pads feature a multi-layered design that prevents leakage and staining issues. It comes with anti-bacterial properties that help prevent infection and genital disease. It'll fit perfectly in your underwear thanks to its adjustable snap closure. It's soft, comfortable to wear, and travel friendly, too.
Saalt's Soft Menstrual Cup works like a tampon but offers longer protection of up to 12 hours. It's a reusable and sustainable feminine product that comes with a gentle and leak-free design. Thanks to its ultra-soft silicone formula, Saalt's Soft Menstrual Cup is gentle and comfortable to use especially for women who have sensitive bladders and experience cramping. It's BPA and latex-free, non-toxic, and hypoallergenic.
Lily's menstrual cup is an eco-friendly and reusable menstrual cup that works well with light to heavy flow. Enjoy total freedom during your menstrual period without making regular changes since this type of feminine product offers protection for as long as 12 hours. It's soft and flexible because it's made of medical-grade silicone.
As its name suggests, Rael Organic Cotton Feminine Wipes are made of organic cotton. These individually wrapped wipes don't contain chlorine bleaching, dyes, and other potentially harmful chemicals. It's saturated with water that's been filtered 7 times. It's handy and perfect for on-the-go. They're hypoallergenic and free of paraben and fragrance.
 Rael's Organic Cotton Unscented Tampons come with a 100% certified organic cotton core, which is free of harmful chemicals. It's easy and comfortable to use. It uses leak locker technology that keeps fluids locked in the core for maximum protection.  
Flo's Organic Applicator tampons are made of plant-based and organic materials, making them a perfect option for health and environmentally conscious individuals. The tampons are made from 100% GOTS-certified organic cotton and come with compact, recyclable, and BPA-free applicators. They're soft, hypoallergenic, comfortable, and easy to use.
Grace & Green Organic Tampons are made with 100% certified GOTS organic cotton that's free of fertilizers, pesticides, and other toxic materials. The 8-channel design helps prevent leaks, provides a comfortable and secure fit, and increases absorbency. They don't contain dyes, deodorants, fragrances, or rayon. They're soft, gentle, and hypoallergenic, making them a suitable choice for those with sensitive skin.  
Cheeky Wipes' Period Pants are eco-friendly alternatives to conventional sanitary products. They have a moisture-wicking layer that makes you feel dry all day long. You'll feel more comfortable, cool, and confident thanks to their breathable outer fabric, leak-proof layer, an absorbent layer, which could hold 2.5 tampons.
HEMSLEY's Period Pants offers absorbent leak proof coverage whether you're standing, sitting, or lying down. Their leak-proof layer and absorbent fabric make it perfect for moderate to heavy flows. They use nylon, elastane, and cotton material to make you feel comfortable.  
FLO's Organic Bamboo Panty Liners are Ecocert, Oeko-Tex certified. The panty liners are biodegradable and have no traces of fragrances, dyes, and chemical residues. They're silky-soft, ultra-thin, and breathable, which makes them comfortable to use.


Eco-friendly feminine products are a worthy investment. They're not only safe but also practical to use. If you've made the smart decision to go green on your feminine products, then you should consider the products listed here.