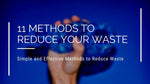 If we take a look at our environment, we realize that the amount of waste we produce daily is growing rapidly and it calls for our attention. A larger number of waste comes from plastics. Nevertheless, if we put in some environment-friendly practices when handling plastics, we will realize that plastics are not as dreadful as how we use them. And we can maintain an eco-friendly environment.
Hello readers, you are welcome to another content release from Ecobravo. Our major concern is to provide you tips to improve your health and live a more satisfying life. There is a lot of content about the general lifestyle on our channel. We hope you'll subscribe to our platform to have access to other similar releases. We also urge you to like our Facebook page to get updated about whatever is happening on my platform. Check out other blogs such as, "3 Powerful Natural Cleaning Blueprint".
Maintaining a sustainable environment is essential to our healthy lifestyle and sustainability. Therefore, we need to try our best to reduce the amount of waste we generate daily, especially as parents.
Reducing waste, especially plastics, might appear to you like a big task that's almost impossible and money-consuming. We will share some simple and effective methods to reduce your waste as parents.
Easy Ways To Reduce Your Waste
Utilize Soap Bars
When you use soap bars, you will have numerous advantages. It's simple, accessible, cheap, and made of clean ingredients. It's a suitable pattern of life, especially when you purchase it locally.
Diapering You Clothes
Diapering your clothes is a fantastic way to reduce waste and maintain an eco-friendly environment. When you use a cloth diaper, you can later remodel it for cleaning purposes, and it's a very efficient way to reduce waste production.
Discard Paper Towels
Discarding paper towels does not only help you to lower the amount of waste you generate as a parent. It also helps you to save a lot of money. We know that it might seem so hard to you. But it's as simple as you could think of.
You can reserve one straggler roll for the frequent mess that needs to be cleared. You can also use a combination of cut towels or sheets. It would be best if you also tried to reserve organic dish towels for cleaning and drying your dishes. It will help you reduce waste production to a minimal level and save you a lot of money.
Use Wool Dryer Balls
Utilizing dryer balls is a good way to minimize the generation of waste. It also creates a lovely experience for kids as they pursue them out of the dryer so that they can have fun with it. When you also add drops of essential oils, it'll give you a suitable smell.
Let children use a Bamboo Brush
It's an awesome experience for kids when they use a bamboo brush. Even though they don't have characters, kids find it very interesting. And it's a good way to limit the amount of waste you generate as it's environmentally friendly.
Purchase Used Clothes
Considering the quickness of kids in growing out of their clothes, purchasing used clothes is the most sensible and sustainable choice.
If you can find friends who have children older than yours, it's a good way to acquire used clothes. You can also get it from resale stores in your locality.
It not only reduces your waste, but it also saves you money.
Get Books In The Library
When you use the library or thrift stores to acquire books, it's an excellent method of keeping up the cycle of products. It's also lovely and fun for kids.
Practice Composting
Composting is a fantastic method of managing and reducing waste generation. It's very effective in reducing the outputs from your waste that can release dangerous methane into the atmosphere.
It may sound complicated and difficult to do. Nevertheless, many cities provide compost services. You can just give it to them. And if your city doesn't provide such service, you can use a worm composted or your tumbler. It'll help you to make a big difference.
Waste from food can create a huge amount of methane. Therefore, you must practice composting to limit its effect.
Cultivate a Garden
The garden is a very important gift regardless of the size. And to create a connection with what you eat, we should grow our food. It helps you to reduce your waste as well as connect you more to your children.
Use Silicone Bags
Discard the use of plastic and spend on silicone bags. It'll help you to save money and reduce waste production.
Purchase From Brands That Aid Sustainability
If you have the chance to select the food you place on your table, you should select the brands that do it right. It'll make a big difference in aiding the creation of an eco-friendly environment.
At Eco Bravo, we believe that our job is to help you with responsible and sustainable shopping options. We are devoted to helping you create an eco-friendly environment, and we're enthusiasts in a greener and cleaner future for our planet. We've also researched so that you don't need to. With us, you have the opportunity to select from a broad range of sustainable, plastic-free, and environmentally friendly products.
In conclusion, the simplest things can change everything for you and your family and how you influence the environment. It's also more interesting when the children are involved. When they see you turning waste reduction into part of your daily life, they see it as a habit, and it becomes easier for them to do. If you see this content regarding methods to reduce your waste to be useful, please subscribe to our platform, like and share the content for others to benefit from it. It'll also be best if you joined our Facebook page. Also, let us know your views and comments in the comment section below.