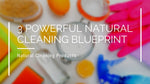 With the level of global awareness concerning the harm of man's poor sustainable practices, everyone needs to start using environmentally friendly items to serve their needs, especially when it comes to cleaning.
Hello readers, you are welcome to another content. Our primary concern is to provide you with tips to improve your health and live a more satisfying life. There is a lot of content about the general lifestyle on our platform. We hope you'll subscribe to our platform to have access to other similar releases. We also urge you to like our Facebook page to get updated about whatever is happening on our platform. Check out other blogs such as, "The Impact Of An Eco-friendly Lifestyle On Us And Our Environment".
The commercial cleaning products out there have many health and environmental harmful side effects like asthma, allergies, and endocrine disruption. What better way could you prevent these harmful effects if not by making your natural cleaners safe for the environment? Because of that, we will reveal to you:
The super do-it-yourself cleaning recipes that you can apply to make your natural cleaning products
Firstly, you'll require some natural ingredients if you want to begin making your cleaning products from home. They are:
Bicarbonate or baking soda
Castile soap
White Vinegar
Essential oils
Lemon juice
Olive oil
Salt
Soap nuts
So, now that you have all your ingredients to hand let's go into the recipes that will keep your house squeaky clean. Be careful to pay attention to our special bonus.
Multipurpose Cleaner
You can use this everywhere in your home to clean up almost anything. It's simply equal part water to similar part vinegar together with trace essential oil. This means that you half fill the spray bottle you want to use for storing it with water and complete the remaining half with vinegar.
Then you add ten drops of essential oil to give it a pleasant smell. And it's ready for use. To apply it, you need to spray it on the surface of whatever you want to clean and then rub it off. And you're good to go. The cons of this cleaner are its vinegary smell that may irritate many.
Nevertheless, you can send that vinegary smell to the bay by putting a rind of lemon or oranges in it and allow it to infuse for close to a week. The essential oil will also help to uplift the smell to a lovely scent.
Toilet Wash
For a glittering look, pour a little bit of bleached vinegar, bicarbonate soda and a bit of oil into the toilet bowl. Leave the mixture sitting in your basin for a little bit so it will fit up. And then use your support brush to scrub any dirt away.
Likewise, if you want to clean your toilet seat or anything, you can use the multipurpose cleaner that we mentioned previously to wipe all of that down, and you should have a sparkling clean toilet.
Soap Nuts
Soap nuts are a conventional easy method to wash up your clothes, and it's interesting to know that they've been used for centuries for this purpose.
All you have to do is put them in the washing machine, and they will naturally mix up with the water, release the saponins, foam up and get rid of all the specks of dirt and smells on your clothes. And consequently, they leave your clothes nice and clean.
As for the bonus:
Window Cleaner
This is made up of a portion white vinegar with four portion water. You can pray it on your window and wipe it clean to have an unstained window. However, it would be best to make sure not to do this on a very hot day otherwise, it might be some streaky marks.
In conclusion, maintaining a hazard-free ecosystem can be easier with intelligent innovations. Therefore we should embrace the production of natural products using the recipe we have given and other hacks to meet our daily needs.
If you see this content regarding cleaning as valuable, please subscribe to our platform, like and share the content for others to benefit from it. It'll also be best if you joined our Facebook page. Also, let us know your views and comments in the comment section below.