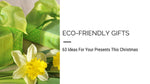 Hello everyone, welcome back to our blog!
Already searching for gift ideas for Christmas? Get in here! The count down to Christmas started already! It is never too early to start thinking about Christmas gifts. Christmas is all about giving and sharing. While you may think there is no way to celebrate Christmas in an Eco-friendly way, truth is, you can absolutely do that.
If you want to celebrate Christmas this year without compromising your environmental values, we have got you covered.
As Santa's Eco-friendly little helpers, we have been able to curate a list of Eco-friendly gifts for your family and friends. Here's our list:
Scented Candles
1. Heart-shaped Scented Soy Candle In Coconut Shell
These scented candles make the world better and brighter as they are ethically-sourced.
2. Round-shaped Scented Soy Candle In Coconut Shell
Soy candles are 100% natural, and a perfect gift for anyone.
Eco-friendly Cups and Straws
If you are thinking of a gift for your husband, wife, or even parents, this is the perfect Christmas gift.
4. Reusable Stainless Steel telescopic Straws
I think this gift is ideal for everyone because it is totally cool and Eco-friendly.
5. Reusable Glass Water Bottle With Cork Sleeve And Bamboo Lid
Everyone needs to stay hydrated, so this will be a perfect Christmas gift for your family and friends. Don't sleep on this!
6. Reusable Teloscopic Straw With Keyring Case
If your partner always has their keys hanging around them, then this is the perfect gift for him/her.
Don't deprive your friends and family the pleasure of enjoying their coffee while saving the environment. Get one for everybody!
Ethically sourced coconut shells, 100% natural. Ideal for taking smoothies, cool foods and drinks. The perfect gift for just about anyone!
Eco-Friendly Cleaning Products
This cleaning set is the perfect way to help your friends reduce the carbon foot-print in their home. Thank us later!
10. Reusable Bamboo Cotton Cleaning Cloth
Gift your wife an Eco-friendly cotton cleaning cloth to reduce carbon footprint in your home. Keep your home safe and the environment too!
11. Water Soluble Plastic Free Cleaning Sachet
Help your friends and loved ones protect the environment by getting them a water soluble plastic-free cleaning sachet.
Antibacterial dish brush for pans, plates, pots, etc. Unarguably, the perfect gift for her.
13. 1 Water Soluble Plastic Free Cleaning Sachet - Kitchen Degreaser
Amazing cleaning product. Suitable for reducing carbon footprint in the kitchen. You should try it!
14. 
Reusable Heavy Duty Cleaner Spray Bottle
100% Eco-friendly heavy duty cleaner spray bottle for perfect dilution of chemicals.
15. 
5 Pack Reusable Bamboo Fibre Kitchen Cleaning Cloths
An excellent gift for an Eco-friendly household.
Decrease the carbon footprint in your home with this 100% loofah sponge.
17. Water Soluble Glass Cleaner
Gives glasses a shiny and clean look after use. Plus it is totally safe for the environment.
18. Water Soluble Plastic Free Cleaning Sachets Multipurpose  Cleaner
This is an amazing gift for any individual bent on saving the environment. Put a smile on your friends' faces!
19. 
Natural Dish Washing Sponge
An excellent gift for an Eco-friendly family. Wash with style!
20. 
Reusable Bamboo Fibre Kitchen Cleaning Cloths
Made of 100% cotton. And washable. Just the perfect gift for the family.
21. 
Water Soluble Plastic Free Cleaning Sachets Bathroom Cleaner
It contains a plastic-free soluble cleaning green formula that keeps your bathroom clean in a green way.
22. 
Set-Of-3 Water Soluble Plastic Free Cleaning Sachet Floor Cleaner
Keeps the floor clean and shiny. Also gives it an Eco-friendly touch with a lovely fragrance.
Eco-friendly Kitchenware
23. 
Stainless Steel Lunchbox Set
This gift is great as it is Eco-friendly and suitable for both adults and kids.
24. 
Reusable Bamboo Cutlery Set (dark)
Encourage zero-waste with this bamboo cutlery set. Stay green!
25. 
Coconut Bowls with spoons Fork + Bonus Reusable Bag
With its natural and unique structure, you can enjoy your meals without causing harm to the environment. Perfect gift for the family.
26. 
Recycled Cotton Heart Knit Basket
This beautiful, stylish cotton knit basket is just the right gift for anyone. You should totally try it!
27. 
Eco-friendly Wheat Straw Bowls
Stylish and colorful bowls. Perfect for the whole family.
28. 
Reusable Portable Folding Travel Cutlery Set
This portable travel cutlery set comes in handy during any journey as well as keeping the environment safe.
29. 
Stainless Steel Lunch Box With Reusable Cutlery Bag + 2 Compartments
100% Eco-friendly gift for the whole family. Totally safe and dishwasher friendly.
30. 
Set of Coconut Bowls + Bonus Reusable Bag
Made with 100% real coconut. Perfect for smoothies, snacks, and chips.
31. 
Stainless Steel Lunch Box with Reusable Cutlery Pouch + No Compartment
Made of high-quality stainless steel. Ideal for offices, picnics, etc. It is 100% Eco-friendly.
32. 
7 Pcs Reusable Bamboo Cutlery Set With Fabric Pouch
Save the environment and keep your loved ones healthy by giving them this reusable bamboo cutlery set.
For Kids
33. 
6 Pcs Eco-friendly Kids Bamboo Dinner Set- Lion
Make mealtime fun for your kids with this perfectly designed Lion bamboo dinner set.
34. 
Educational Wooden Toy
Gift your children with this 100% natural and safe, creative wooden toy. They will love it!
35. 
Bamboo Dinnerware Kids Set-Giraffe
Safe your kids from toxins by getting them this bamboo dinner set. It is 100% Eco-friendly and perfect for both sexes.
37. 
6 Pcs Eco-friendly Kids Bamboo Dinner Set- Musical fox
This dinner set will keep your kids interested in their meals and reduce the chances of food spills.
E-books and Christmas cards
38. 
Have The Best Vegan Christmas
There are tons of unethical cards out there. Gifting your loved ones such cards could cause harm to the environment. Why not try our best vegan Christmas card?
39. 
100 Natural Cleaning Tip For Your Home
Guide your family and friends slowly into the Eco-friendly lifestyle by starting with this amazing cleaning book.
40. 
Happy Homemade Christmas
Do you know you can spread love without causing harm to the environment with this 100% plastic-free card? Yes, you  can!
41. 
Have a Happy Humble Christmas
Encourage Eco-friendly living by giving out this Christmas card to friends and loved ones. Spread the word!
Beauty Products
42. 
12 Reusable Bamboo Cotton Makeup Remover Pads
Looking for the best gift for her? Every lady needs this amazing Eco-friendly makeup remover pad. Get her one!
43. African Black Soap
Give your family a treat by getting them this amazing black soap for perfect skin.
44. 
Bamboo Toothbrush
Biodegradable, reusable toothbrush produced to last long. Perfect for the whole family.
45. 
His & Her Bespoke Gifts Set
Amazing anti-aging, anti-inflammatory product. Great for Eco-friendly and vegan families.
46. 
Reusable Sanitary Towel Pads
Give her maximum comfort while protecting the environment with this reusable sanitary towel pads.
47. 
Hand & Nail Conditioner
Give your hands and nails a moisturizing and nourishing treat with this 100% organic product. You're welcome!
Eco-friendly clothing
48. 
Kids- Home Is Where My Heart Is T-Shirt
Gifting this amazing Home Is Where My Heart Is T-shirt to your kids will certainly put a smile on their face.
49. 
Flowers & Butterflies T-Shirt
Show her some love by getting her this lovely T-shirt.
50. 
Men- Where Is Home? T-Shirt
Remind your partner where home is by getting him this T-shirt.
Hampers
51. 
All-In-One Eco-Friendly Hamper
Introduce your friends into the green movement with this All-In-One Eco-friendly Hamper.
52. 
All-In-One Green Kitchen Hamper
Give your kitchen an Eco-friendly touch by getting your wife this perfect Christmas gift.
53. 
Eco-Friendly Hamper For Kids
It contains exciting things your kids will enjoy this festive season.
54. 
All-Natural Eco-Friendly Travel Hamper
It contains a perfect mix of everything an Eco-friendly person needs to travel.
Healthy Snacks and Tea
55. 
Raw Organic Herbal Honey
This is a raw, organic pure liquid gold everyone can enjoy.
56. 
Organic Dried Bulgarian Rose Bud Loose Tea
Rich in vitamin C! Great for those intending to lose some weight.
57. 
Organic Dried Rosehip Loose Leaf Tea
100% natural! Perfect gift to fight cold and other mild illnesses.
58. O
rganic Dried Jujube Fruit (Red Date) Healthy Snack
100% healthy and organic fruit snack for everyone!
Shopping and Storage bag
59. 
100% Organic Cotton Bread Bag
If your mom or wife loves bread, they will definitely love this. Give it a try!
60. 
LOVE Tote Ba
g
This 100%  Eco-friendly cotton canvas tote bag with LOVE inscribed on it will certainly make anyone happy.
61. 
Set of 5 Reusable Beeswax Food Wraps
For those who enjoy eating fresh food, this is an excellent gift for them. Get one for Christmas!
62. 
Reusable Produce Bags
Make her trip to the grocery store easier by getting her this reusable produce bag.
63. 
I am an Enthusiast Tote Bag
Women are often fascinated with bags, so this will be an amazing gift for your wife, mother, daughter, or friend.
64. 
Reusable Mesh Produce Bags
This a lovely gift for every woman who loves shopping. Who doesn't?!
Conclusion
This Christmas Holiday doesn't have to be centered around getting a super expensive gift. Getting a small, meaningful and Eco-friendly gift can really go a long way. If you are determined to save the environment, the eco-friendly gifts in this guide are great options for you. Stay green and motivated!